Good Day Fellow Techies,
On 22 Sep, Microsoft announced the launch of Giant 85″ Surface Hub. Other than size, Microsoft have brought a larger screen in a smaller chassis than the previous versions, with bezels that are 45% smaller, a display that is 20% thinner, and overall 30% lighter in weight than its predecessor. The fit, finish & quality of the product is remarkable that cannot be found elsewhere.
Microsoft believe large enterprises, educational institution, hospitals will be mostly benefited by this giant 85″- Indeed, not doubt in its vision. Let's walk together – through the announcements and details in this article
Pre-sales reservations for Surface Hub 2S 85" start today (22 Sep 2020) in the U.S
Availability of Windows 10 Pro & Enterprise on Surface Hub
Windows 10 Team 2020 Update
Pre-sales, Reservations & Delivery
Microsoft started to take pre-orders for Surface Hub 2S in united states- The Giant 85″ Inch Surface Hub 2S will be available for purchase from Jan 2021 – The pricing seems to start from $21,999. Microsoft is focusing on US Market first and other countries in later stage. The US FCC have not yet authorized the product yet – actual sale and delivery is contingent on compliance with applicable FCC requirements. Here are the few authorized Surface resellers
Windows 10 Pro & Enterprise Availability in 85″
This Giant 85″ Surface Hub comes with the option to migrate to Windows 10 Pro or Enterprise – for the first time we can run the same Windows 10 Pro or Windows 10 Enterprise that runs on our PC on Surface Hub – Hurray ! Watch out Yoav's video & his Blog for the detailed understanding on how to.. – Myself & Yoav worked together few years back in Ireland – he is a strong surface hub guy and great partner to work with – Cheers Mate
Availability of Windows 10 Team 2020 Update
Microsoft Rolling out windows 10 team 2020 update this October 2020 – this update brings enhancements, features and security improvements to organizations around the world. This update addresses feedbacks shared, starting with full support for organizations using Azure Active Directory (Azure AD) to manage their Surface Hub devices, Modern authentication, support for the new Microsoft Edge, support for proximity join with Microsoft Teams and more.
Windows 10 Team 2020 Update Preview
Windows 10 Team 2020 Update, is now available for preview through the Windows Insider Program. This Windows Insider Preview release delivers major improvements to device deployment and manageability along with the latest Windows 10 features. It's available for both the first-generation Surface Hub 55-inch model and the latest Surface Hub 2S 50-inch device. Support for the first-generation Surface Hub 84-inch model will be included in the final release of Windows 10 Team 2020 Update.
Technical Specs & What in the box
Dimensions
44.5" x 77.1" x 3.4"
(1130mm x 1959mm x 85.6mm)
Weight
185 lb. (84kg)
Resolution
3840 x 2160
Display
PixelSense™ Display, 16:9 aspect ratio, 10-bit color, 30.5mm border width, anti-glare, IPS LCD, in-cell touch with 20 simultaneous touch points
Compute
Modular Compute Cartridge
Quad-core 8th Generation Intel® Core™ i5 processor, 8GB RAM, 128GB SSD
Software
Windows 10 Team OS
Microsoft Teams for Surface Hub
Skype for Business
Microsoft Whiteboard
Microsoft Office (Mobile)
Microsoft Power BI
Connections
USB-A
Mini-DisplayPort Video Output
RJ45 Gigabit Ethernet
HDMI Video Input
USB-C® with DisplayPort Input
(3) USB-C® (on display)
Graphics
Intel® UHD Graphics 620
Audio / Video
100Hz – 12KHz range 3-way stereo speakers, including (2) mid/high-range and (1) mid/low-range in rear bump.
Full band 8-element MEMS microphone array
Microsoft Surface Hub 2 Camera, 4K, USB-C® connection, 90-degree HFOV
Pen
Microsoft Surface Hub 2 Pen (active)
Surface Slim Pen compatible
Sensor
Doppler occupancy sensor
Wi-Fi 5: IEEE 802.11 a/b/g/n/ac compatible
Wireless
Bluetooth® Wireless 5.0 technology
Miracast Display
Exterior
Casing: Precision machined aluminum with mineral-composite resin
Color: Platinum
Physical Buttons: Power, Volume, Source
Warrenty
1-year limited hardware warranty
What's in the box
(1) Surface Hub 2S
(2) Surface Hub 2 Pen
(1) Surface Hub 2 Camera
4m AC Power Cable
Quick Start Guide
Mounting Solution for Surface Hub
In order to make location, users & technology work together, Microsoft partner with Steelcase in building mounting solutions for the 85″ Giant. With Steelcase Roam for the Surface Hub 2S 85" there are three different solution, such as, wall mounting, floor supported wall mounting & movable cart – which brings a floating wall mount for perfect integration, a floor supported wall mount for easy install, and a mobile cart that provides flexibility and reconfigurability for any space.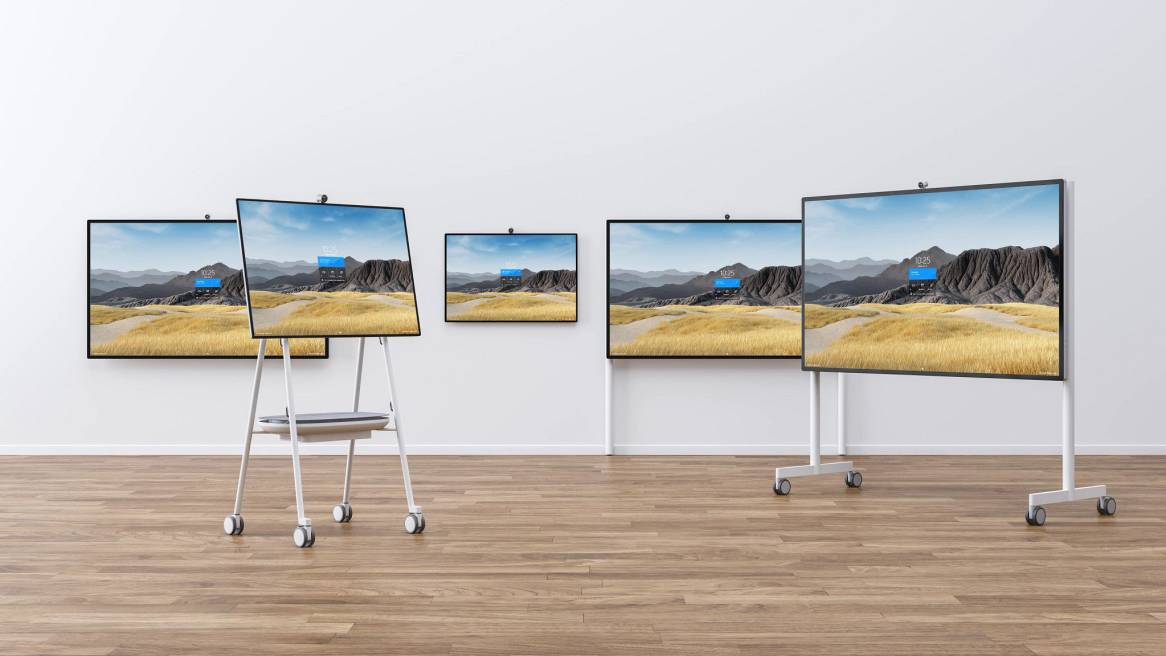 Move It ! – Make any place a Teamwork space
Thin and sleek, Surface Hub 2S integrates into any workspace. From conference rooms to open spaces, With a mobile stand and battery – Surface Hub 2S is a moving giant that delivers the collaboration at its best – Moreover its 20% thinner and overall 30% lighter in weight than the previous Surface Hub.
MS Teams Powered Surface Hub 2S
With the power of teams Surface hub becomes more powerful – with 4K Surface Hub 2 Camera, far-field mics, crystal-clear speakers and a brilliant, 4K+ resolution screen.
Microsoft Whiteboard in Surface Hub
Microsoft Inbuilt digital Intelligent Whiteboard is an endless canvas for people to work together in person or remotely across multiple devices. Surface Hub lights up the Microsoft Whiteboard experience with a gorgeous large screen display and advanced dual inking capabilities.
The dual inking capability let use of two pens at same time.
Inbuilt ruler to assist drawing straight lines.
When you draw a shape, Whiteboard will perfect it for you.
The intelligent whiteboard recognize your intent & shape it better – either its a line, shape or letters
The Tables you draw in Whiteboard are auto-adjustable according to the information you put inside a cell
Additional Reference
Check out the Microsoft's dedicated skilling session video for a deeper look at Surface Hub 2S 50" with Windows 10 Pro and Enterprise.
Visit the Surface Virtual Hub where you can further explore our Ignite content and product news.
Regards
Jason
Jason Prabhu, Infrastructure Architecture, India.
Microsoft Certified Trainer | Former Microsoft Engineer | Microsoft Certified Expert – Window Server, Messaging, Office 365, Communication & MS-Teams | Specialized in Window Server, Messaging, Office 365,  Lync, Skype for business, MS-Teams, Ribbon, AudioCodes, Crestron and related solutions & tools.